From the far reaches of Lutari Island to the distant moon of Kreludor, the world of Neopia is a vast and exciting land, home to explorers, adventurers, and all of the species of Neopets. Some are steadfast friends (or good-natured rivals)…and some villainous characters are would-be conquerors or rulers, and everything in between. This sprawling cloth map covers many of the landmarks and regions of modern day Neopia, for easy reference to what's where in the wide world of Neopets!
Measuring approximately 22″ x 36″  and made flexible poly-cotton material, this gorgeous map is just the thing to showcase in your collection.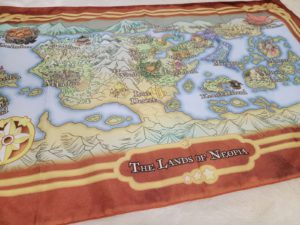 Each map comes with a rare Neopets item code!
See our store for other awesome Neopets merch!
This is officially licensed merchandise from Neopets / Jumpstart Neopets © 1999-2021 All Rights Reserved. Artwork by Aimee Scholz
(Please allow 3-5 business days to ship – Neopian post needs time to process. Codes send by email within roughly a week of product shipping. Please note, purchases with codes cannot be refunded once codes have been redeemed.)